With the latest release of COD Season 7 mobile game edition, there are lots of weapons you must get familiarized in the first place to become a pro player. Every other weapon that you were earlier said to be used in the COD mobile game has been updated along with the gameplay. Keep reading as we present upfront the best gun in cod mobile that you can make use of to complete Season 7 at ease without falling prey for the enemies in anyways. 
Call of Duty: Best assault rifle list
The assault rifles are said to be the best staple that every other solider walking down the enemy lane must hold onto in COD gameplay. COD Mobile has bought back the old favorite assault rifles.
Tier 1:
S Tier: Type 25
Type 25 rifle is highly used to tackle multiple enemies at the same time. The accuracy levels mentioned in the stats of this gun are quite low, yet, while utilizing it in the gameplay, you are about to witness a huge difference in terms of accuracy levels. Despite experiencing close range damage, this particular weapon does top the list of best guns in Modern Warfare with its versatility features.
Man-O-War:
Man-O-War is an overpowered gun that has good accuracy, high damage rate, and highest mobility when compared to other weapons. This gun can be used in both long-range and close-range combat. Since Season 5 got released, the overall stability of this particular weapon has been improvised in every other season, which is why you can highly rely on this gun when compared to others.
ICR1:
This gun has a higher range of mobility and accuracy, yet, it lacks below average in terms of damage output, which has let it stay below the top range of guns that you can use in COD mobile games. You might find this weapon the best among the others if at all you do not consider the damage range in the first place.
BK57:
This is yet another gun that holds onto underwhelming levels of damage output. If you are in search of a gun that has higher rates of accuracy and firing capability then you must befriend BK57. In the recently released update, the BK47 has a new damage range making it one among the best weapons that you can use around.
HBRa3:
Starting from dominating the enemies from the close range to covering up fellow players, the HBRa3 has it all packed in one place. 
Tier 2:
M16:
The M16 can be added to your list of guns at level 46. It has higher accuracy rates along with an average kick coming from the recoil.
AK47:
Recognized as the best assault rifle in the COD mobile game, the AK47 gets unlocked at level 23. Every other shot made through the AK47 contributes to serious damage to the enemies. The firing rate of this rifle certainly threatens the enemies to a major extent. While utilizing this gun along with recoil, use controlled bursts to have complete power over the target.
AK117: 
This gun does provide higher accuracy and firing rate, despite of lacking with damage possibilities. The minimal recoil facility in this gun is highly valuable, and it can be easily carried over to safeguard your team from the enemies any part of the gameplay.
LK24:
The gun holds onto the familiar firing mechanism of SMG, yet, it does differ with its firing range. Investing in this weapon shall be highly beneficial for players who are looking for a reliable gun with a faster firing rate.
KN-44:
KN-44 can swiftly deal with solid damage even when used in different ranges. The damage per shot in this gun is pretty good, yet, you need to play one or two games to understand its entire mechanism.
Tier 3:
M4:
M4 does have its place among the COD mobile best guns list. It's the first gun that you can easily unlock. Even if the enemies have been obliterating in full auto mode, you can easily get rid of them with the controlled bursts coming from M4. 
HVK-30:
This mid-range gun is pretty easy to use and has a higher accuracy rate when operated at close ranges. 
Tier 4:
ASM10:
The ASM10 can be unlocked after surpassing level 138. It does have the same firing and damage rate when compared to AK47. The outer look of this weapon is quite attractive, which is why many gamers look forward to add it to their gun collection in COD Mobile.  
Although it contributes low damage, range, mobility when compared to other guns, it does hold onto its own set of benefits. 
LK24:
The LK24 gun gets unlocked in level 75. When compared with M4 it does lack many different things. You can easily acquire M4; upgrade it once in a while, rather waiting for level 74 to unlock LK24. 
COD Mobile: Light machine gun list
LMG does serve the best for gamers who are looking for mid-range guns. To explore the below-mentioned best LMG modern warfare guns list to its fullest potential, you must first learn the perfect angles to use them in the field. LMG has high flexibility and success rate when compared to other guns.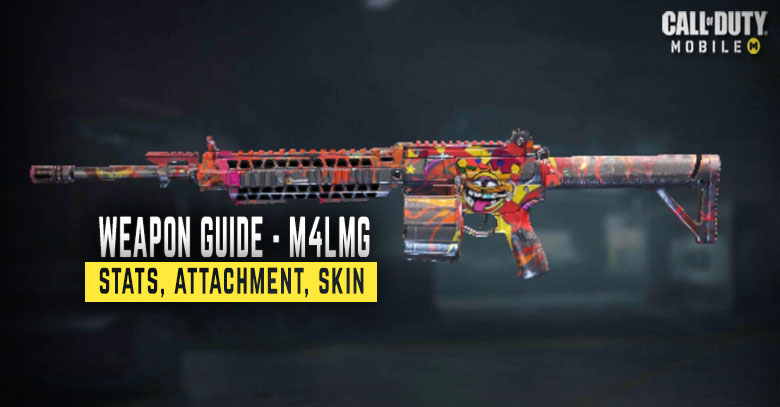 Tier 1:
UL 736:
Long-range and high damage are two key factors of using a UL 736 machine gun in the COD gameplay. These two are more than enough to pull down the enemies and attain victory at the earliest as possible. The only downfall of this weapon is that it has low mobility that you need to surpass on your own to avoid getting defeated.
Tier 2:
RPD:
Once you have started to unlock the light machine guns, you will understand the real worth of RPD and why it is considered as one among the best gun in COD mobile. It fairly covers close quarters and also turns out to be a helpful weapon while handling long-distance situations. If you have earlier unlocked other sets of LMGs then utilizing RPD shall never be a good option. 
Tier 3:
M4LMG:
This is the most accurate machine gun when compared to other LMGs, and it is safe to say to carry them around as well. Even if you have acquired this gun and have RPD to your collection then you must stick with it until the better ones come by your way.
S36:
This beast performs accurately when compared to other Call of Duty Modern Warfare best guns list. With 75 firing rate and 75 damage rate, you can easily unload ludicrous type of damage upon your foes. If you are about to cover a longer range then carrying S36 along shall never be a good option. The abysmal accuracy in S36 shall never let you handle recoil the gun. 
COD Mobile: Sniper Rifle List
COD Mobile has recently bought back the much-needed snipers to the small screens. Following is a list of well-researched snipers that you can always rely upon.
Tier 1:
M21 EBR:
This all-rounder type of striker shotgun can cause utmost damage to the enemies with its firing rate. Even skilled-players shall fall for it while handling the second or third shot. 
Tier 2:
DL Q33:
This shotgun is known for its one-kill potential when aimed over the chest. If you are a lower-skilled player then this rifle shall save your day. The firing rate is quite low when compared to other rifles, yet, you can learn to unwind its fullest potential. Missing the target in the first hit shall likely take time for the second to fire around, which is why you need to test it out before carrying them all around.
Arctic .50:
Unlock this rifle after reaching level 67. The Arctic .50 has a better firing rate and provides higher mobility when compared to DL Q33; yet, it contributes less damage to the enemies.
Locus:
This decent piece of the gun is a good buy if you do not own DL Q33. Although it does hold onto a higher firing range and rate, it can still be used to wisely tackle the enemies from following your team.
Tier 3:
XPR-50:
Once you have reached level 88, this rifle shall all be yours. The firing rate is faster than the M21 EBR. Contrary to this, it has less accuracy and range. The lower accuracy rate, when combined with increased firing rate, remains to be a problem unless you have tried using them earlier before battling it with the enemies in the first instance. Have a closer look at what the second and third shot contributes, and then wisely use it to take down the enemies.
COD Mobile: Submachine Guns List
Although the below-mentioned submachine guns list cannot cause damage from longer range, it can still be utilized for its higher firing rates.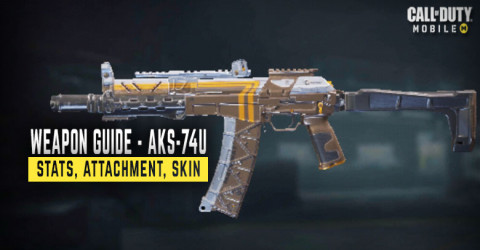 Tier 1:
AKS-74U:
This is one among the best gun in cod mobile that can certainly create fear among well-armed arm. It is an all-rounder type of gun that can produce maximum damage output, and let you stay safe even within closed quarters combat. 60 firing rate and 80 damage rate shall let the enemies run away from your sight in the first glance itself.
Cordite:
Cordite holds onto every other feature for a submachine gun to destroy the opponents from a short range. Once you have unlocked Cordite, stepping forward with your team shall become an easy task. Spend some time and learn the recoil pattern to become unstoppable, irrespective of how powerful the opponents are. 
Pharo:
Pharo can be used within small maps or in situations where you are put up in a tight spot. 
Tier 2:
PDW-57:
If you are looking for a close-range weapon then PDW-57 must be your first choice. Have it as a backup weapon, and you are good-to-go.
MSMC:
MSMC has similar functionalities to Pharo and can be wisely used in any kind of closed quarters chokepoints. When compared with other types of SMGs, the MSMC has the highest firing accuracy rate. The damage reduction is compensable, yet, it is still a good weapon to hold onto.
The firing ability of this weapon is pretty fast, which makes it possible to take down the enemies at short range.
Tier 3:
Chicom:
This is yet another gun that matches with your slow range firing expectations. The burst output tends to be random, still, you can make use of it to distract the enemies and kill them at the same time.
HG 40:
The accuracy levels of this particular gun have eventually made it to the Call of Duty modern warfare best guns list. This is the best assault rifle and a sub-machine gun that covers both close and wide-range shots.
COD Mobile: Shotguns List
To blast in and around the enemies from the corners, you need to have shotguns to your weapon connection. The shotguns are specially designed to use in smaller maps.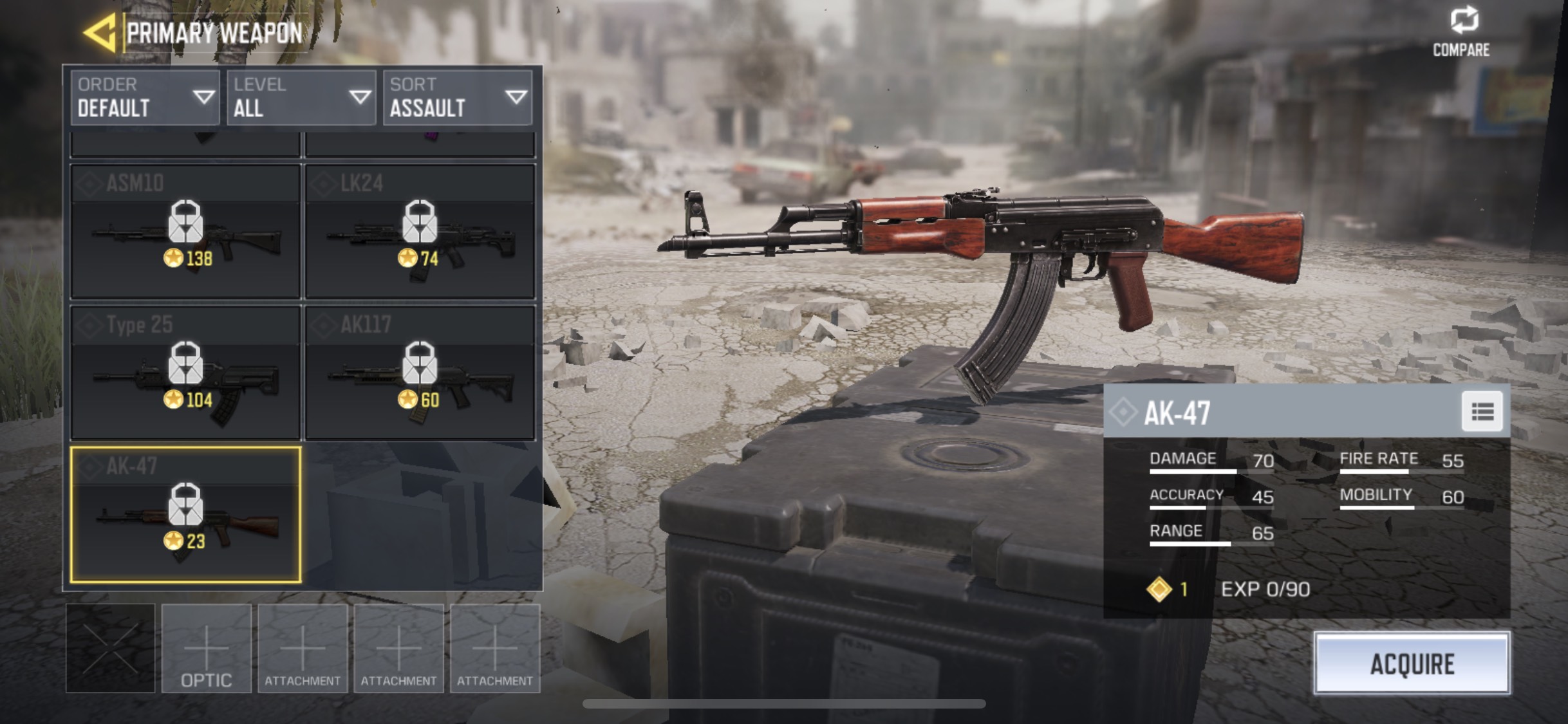 Tier 1:
Striker:
If at all your priority in choosing the best gun in COD depends upon firing range then this shotgun is what you are looking for. It has an additional aiming down type of feature that can let you walk through the enemies at ease. The firing rate is pretty good, letting you to pick the second shot in a fraction of a second. If at all the opponent is said to be located in a closer range then for sure they shall be dead out of receiving one shot from this gun. As this is a shotgun and not an assault rifle, you must make use of it only while trying to kill enemies in the closer range.
Tier 2:
BY15:
The kind of damage that can be attained out of using BY15 is certainly impeccable when compared to the Striker. Get hold of this gun and put down the enemies located a decent distance in one or two shots fired out of it.
HS0405:
This tactical and user-friendly shotgun has its own set of benefits like one-shot killing potential and higher firing speed. Give this shotgun a go if you are about to blast the enemies from a closer range.
Tier 3:
HS2126:
This fiery shotgun can cause high damage to the opponents if at all fired in a short distance. The damage accuracy of HS2126 is quite higher when compared to the above-mentioned shotguns.
COD Mobile: Secondary weapons
Handguns:
.44 Magnum has an incredible range in Modern Warfare 2, and it does remain the same powerhouse with the mobile version too. J358 and MW11 are the two .44 Magnum that you can highly rely on.
Launchers:
The best possible way to clear a particular room filled up with enemies is to use launchers like SMRS and FHJ-18 AA. 
COD Mobile: Performance-enhancing equipment
Optics:
While having the best lmg modern warfare and shotguns to your gun collection, you still have to gain access to scopes that shall significantly boost up the gun's performance and let you move on to the next level at ease. Accuracy does matter the most with COD game, which is why scopes like holographic sight, red dot sight, dual zoom or tactical scope shall be your savior for the day.
Attachments:
Other than the scope get hold of a laser sight, stock, quickdraw, silencer, extended mag, fast mag, and long barrel to explore the guns to its fullest potential.
If you are fond of poker and any other virtual games then you can also get the free slotomania coins to play online casino games. you can use these points to create online currency for the game.
How to pick the cod mobile best guns from our list?
As we have certainly listed the best guns that you let you step up and kill the enemies at ease in COD gameplay, you still need to pick the guns based upon your needs. Never choose to pick a gun from the rifle list if at all you are about to fire on the enemies from a longer range. There are certain specifications you need to keep in mind, like firing accuracy rate, damage rate, and so on, while choosing from our above-mentioned best COD guns list. There are m21 rifle, striker shotgun, and much more to choose.